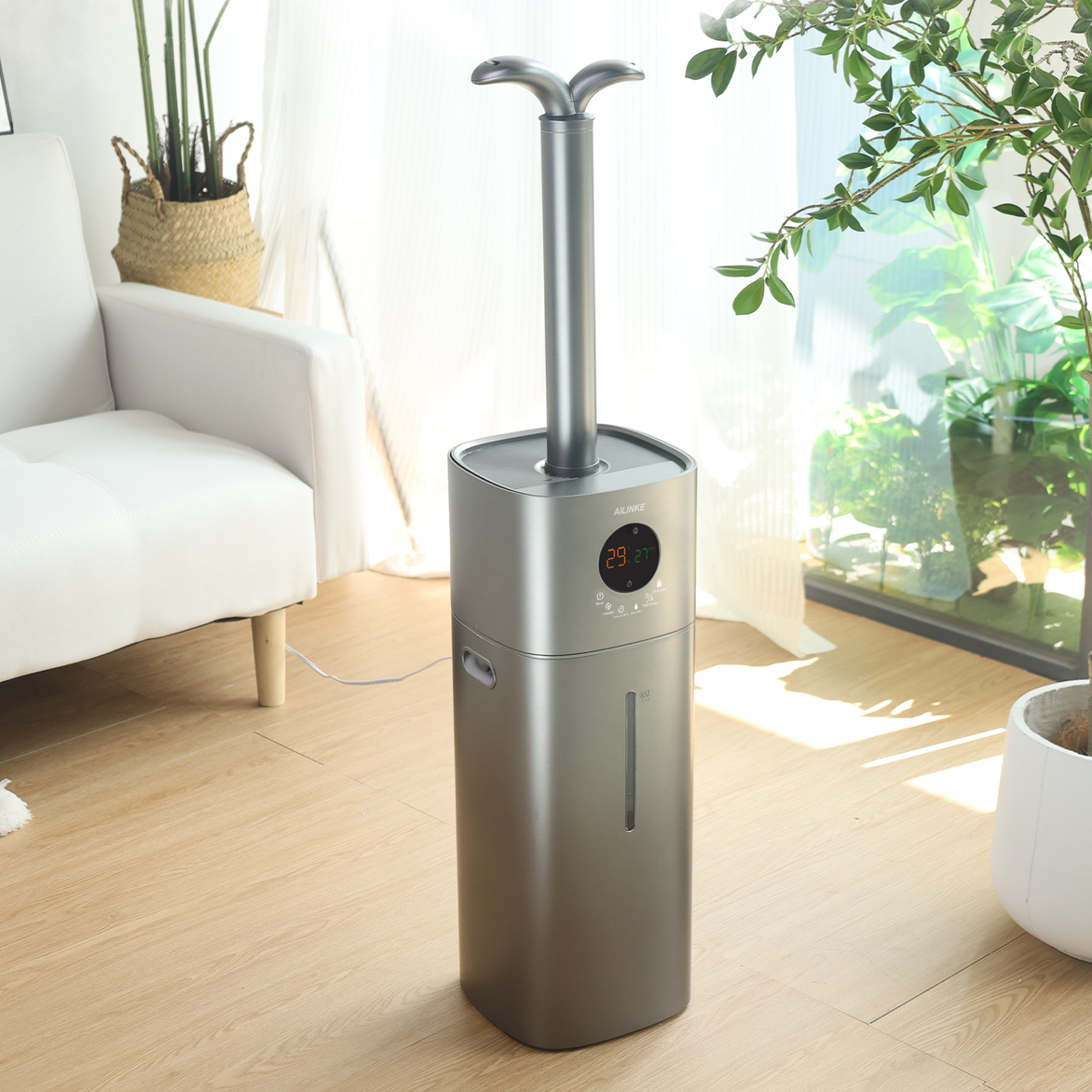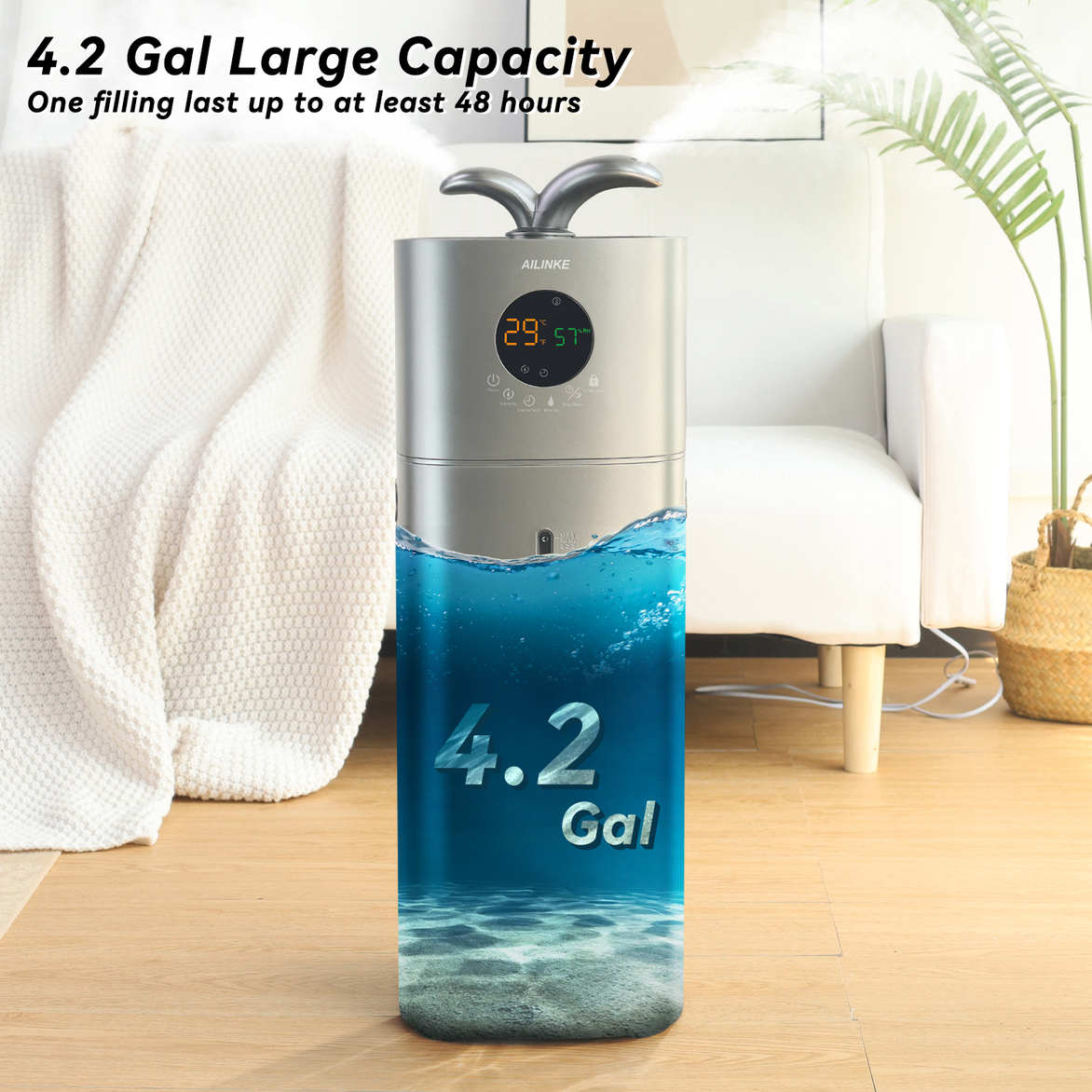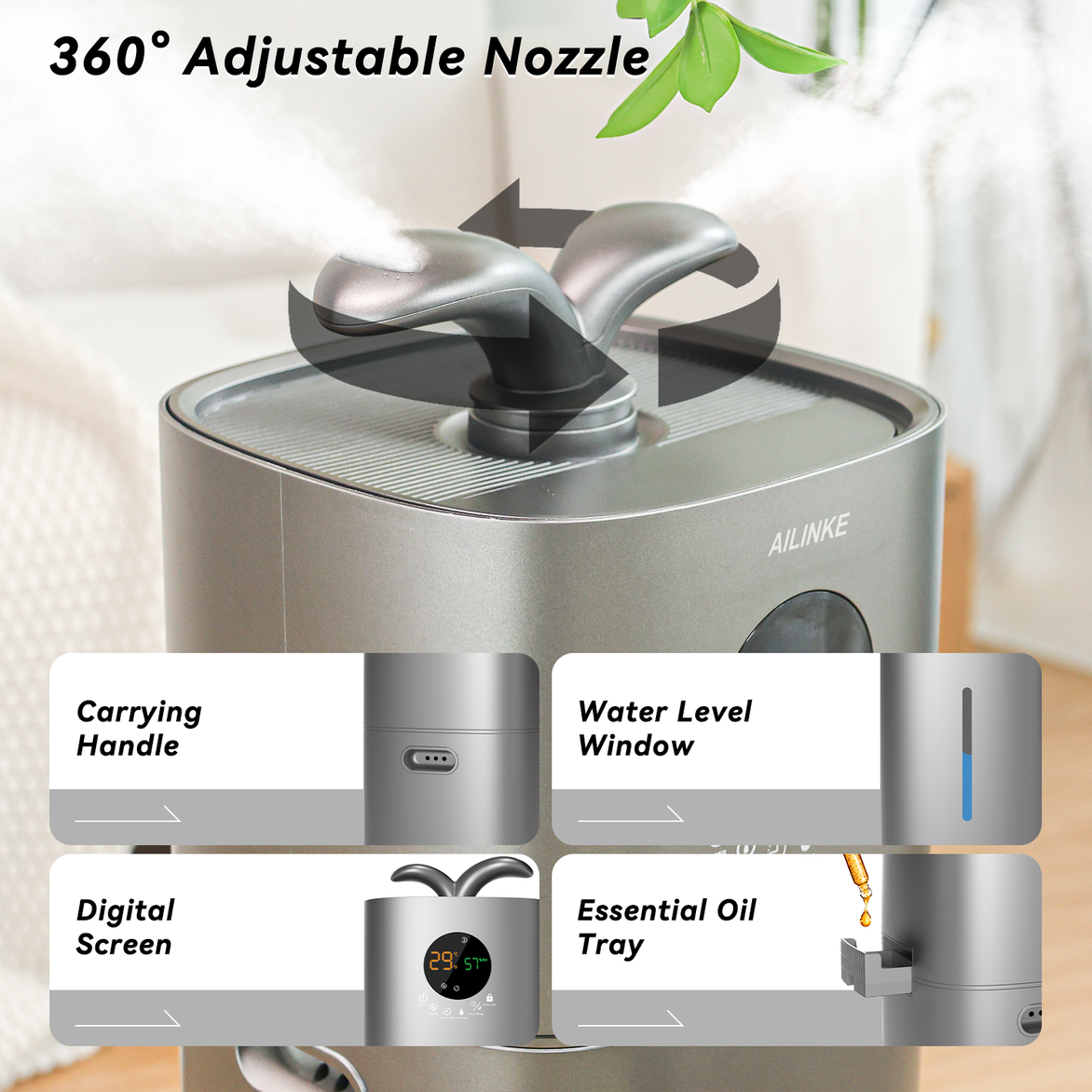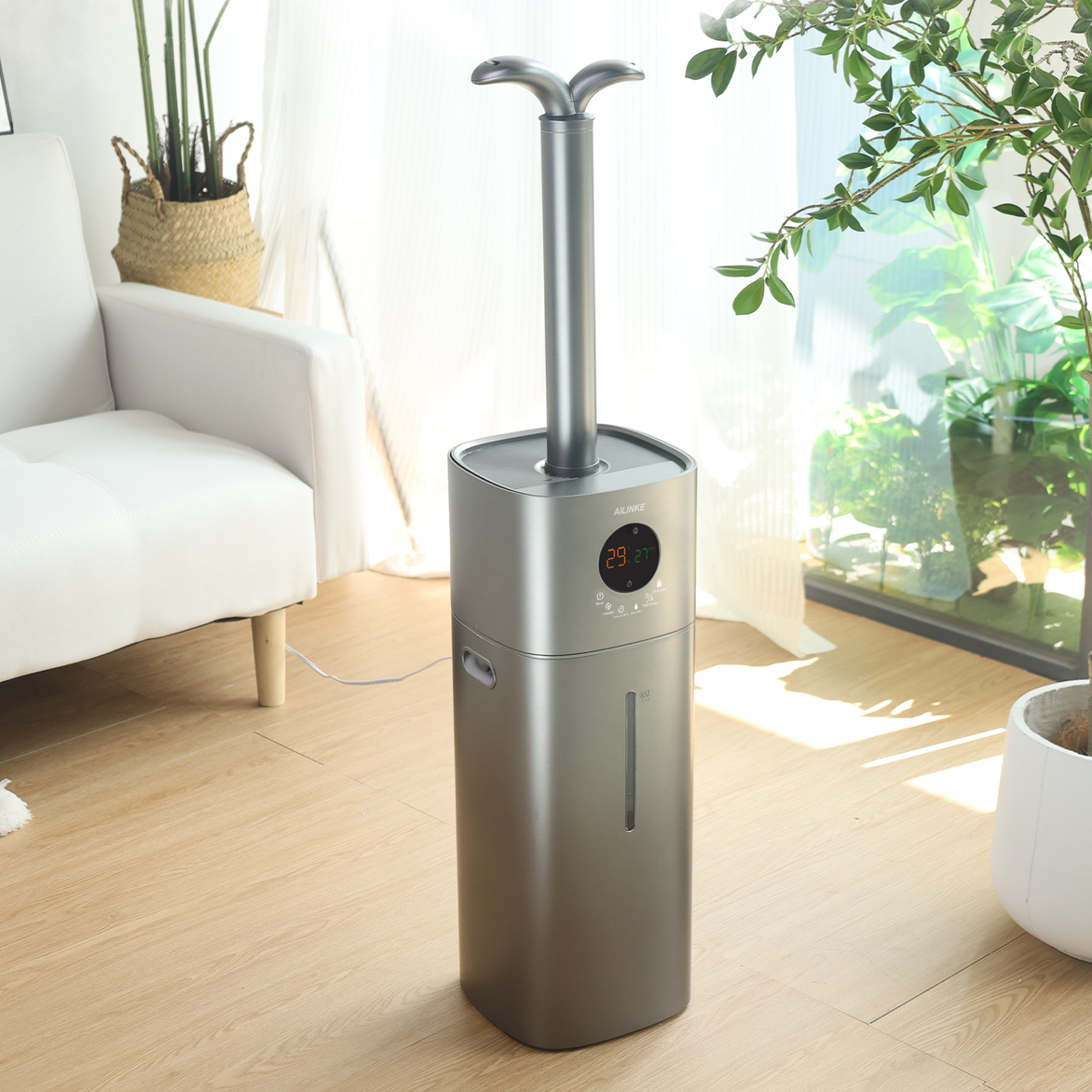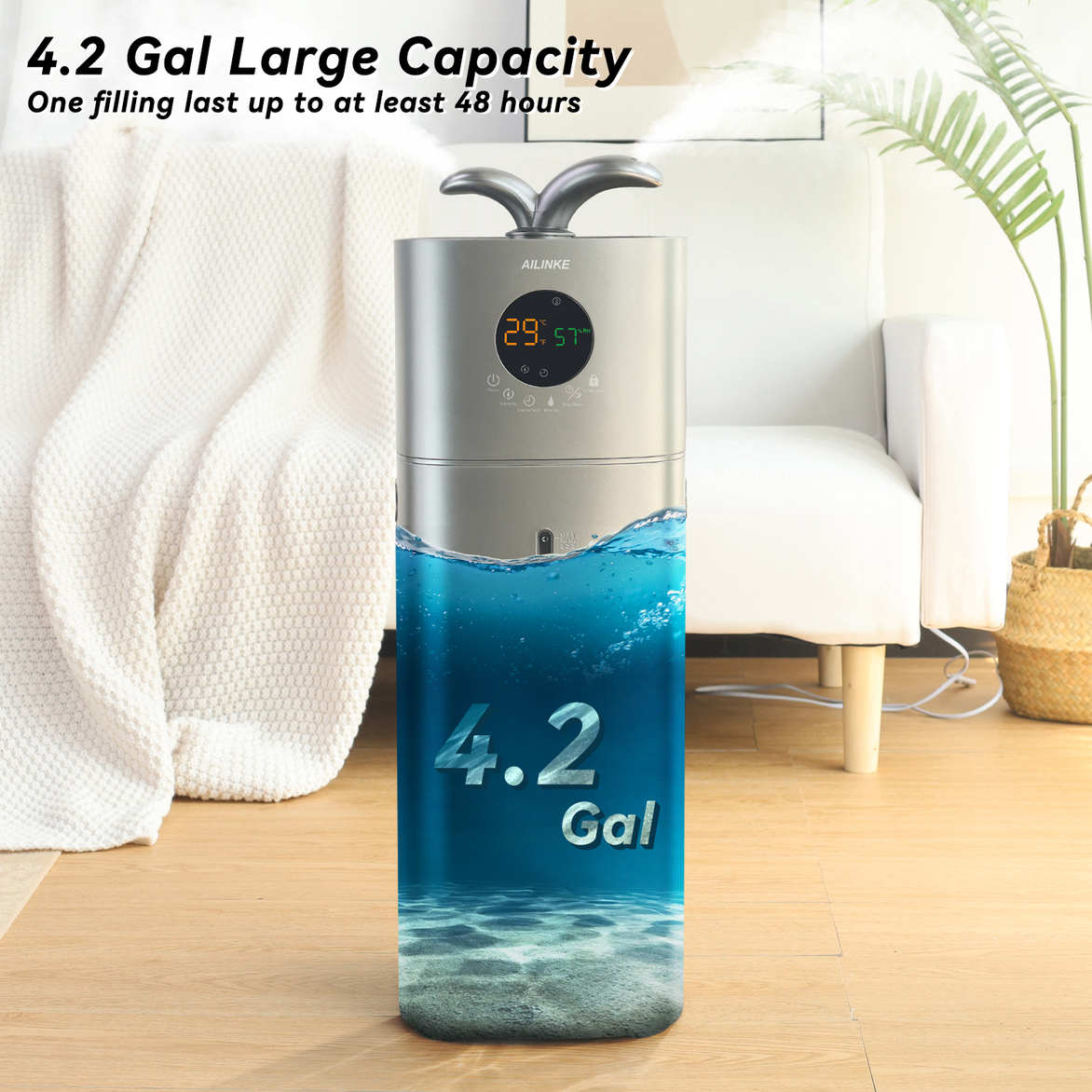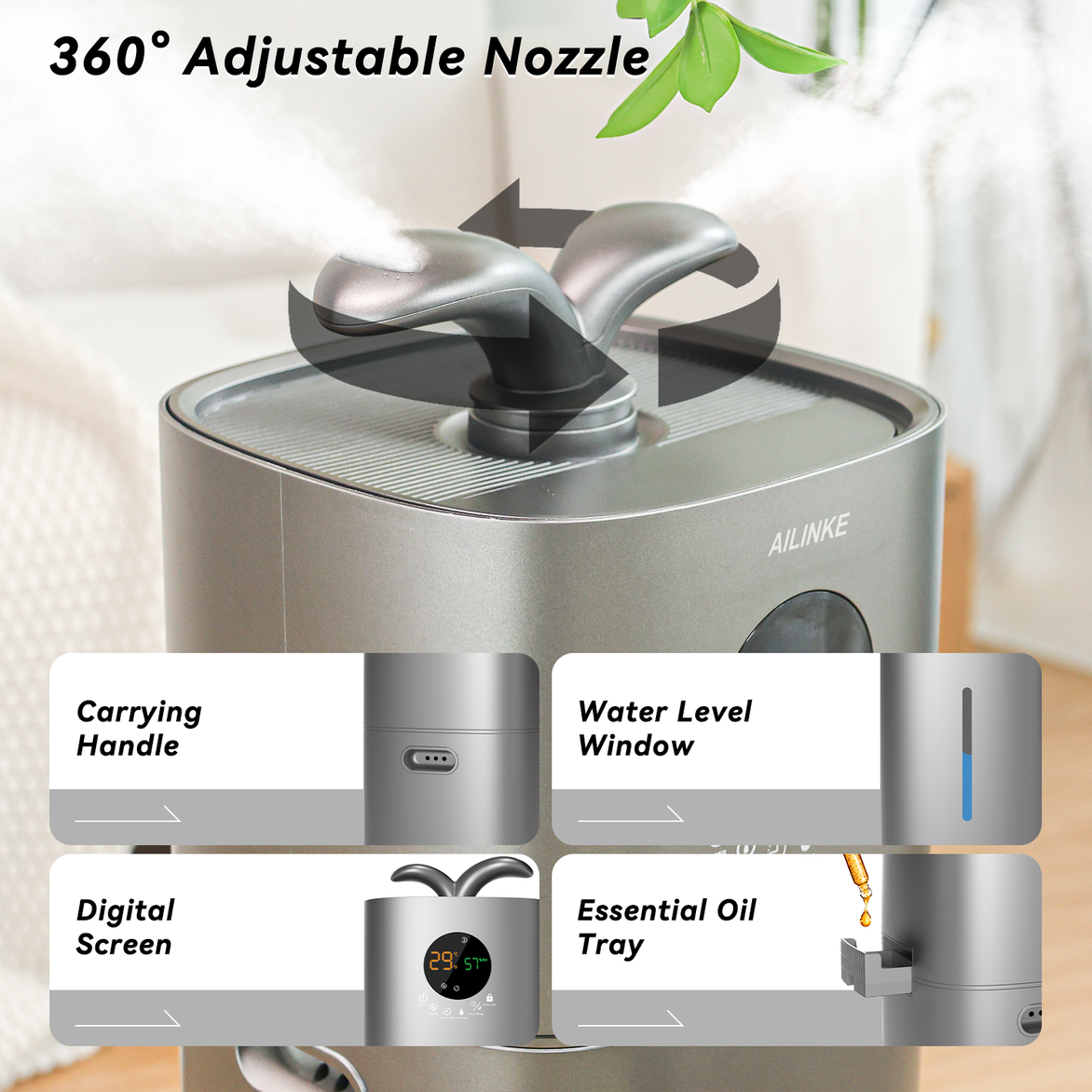 Humidifiers for Large Room Home, 4.2Gal/16L Whole House Humidifiers 2000 sq.ft.Large Ultrasonic Cool Mist Humidifier with Extension Tube for Home, Greenhouse, Office
$219.00
$169.99
| Model Number | J008-US |
| --- | --- |
| Special Feature | Adjustable Humidity Control, Digital Display, Auto Shut Off, Aroma Diffuser, Humidistat |
| Color | Silver gray |
| Operation Mode | Ultrasonic |
| Product Dimensions | 8"D x 8"W x 23"H |
| Humidify Mode | Ultrasonic |
| Item Weight | 5 Pounds |
| Room Type | Office |
| Included Components | Tube |
[Large Capacity Humidifiers 16L 4.2Gal with Essential Oil Tray] This large humidifier has a 4.2 gallons water capacity and can produce mist output up to 1000mL/h, covering an area from 500 to 2000 sq.ft. The included essential oil tray allows to add your favorite scents to the mist. Free Pipe adjustable freely for your multiple use like plant and vegetable growing and moisturizing. Note: At first time to use, please take out the user's guide and all the accessories from the bottom of the tank.
[Whole House Humidifier with Customized Humidity Settings] You can customize the humidity level from 40% to 90%. When the humidity reaches the set level, the mist will be suspended. When the humidity is lower than the set humidity, the humidifier will restart to produce the mist. With 3 mist settings adjustable between low, medium, and high, it caters to different rooms and needs.
[Top Fill Design Humidifiers for Large Room Home up to 2000 sq ft ] Refilling this humidifier is easy and convenient - simply fill water from the top without opening the cover. It provides constant moisture for more than 48 hours and gives you a warning before automatically shutting off when out of water. With a wide opening water tank, refilling and cleaning the empty tank is effortless and spillage-free. Stainless steel atomizer ensures long-lasting and efficient operation.
[Quiet Humidifier with Sleep Mode and Remote Control] The 12-hour timer and near-silent frequency make it perfect for enjoying better sleep. The LED display turns off in sleep mode, and its low noise level won't disturb your relaxation, learning, working, and sleeping. This humidifier comes with both remote control and touch button operation.
[30 Days Free Replacement & 1 Year Warranty] Our large humidifier supports 24-hour online service for any refund, return, or technical assistance. It is ideal for humidifiers for large rooms, humidifiers for bedrooms, large humidifiers, large room humidifiers, humidifiers for home, and whole house humidifiers. The best after-sales service team will always be with you, so please feel free to contact us about this floor humidifier.
4.2 Gal/16L Large Tank
Our large humidifier is specifically designed for rooms up to 2000 sq. ft, and can last up to 100 hours* before needing a refill.

*Full tank & mist output level 1
3 Adjustable Mist Levels
3 mist level settings to switch between Low, Medium, and High, allows you to easily adjust the mist speed to your personal preference, providing you with free and comfortable breathing.
Top Fill Humidifier
Adding water to our top fill humidifier is simple and convenient - there's no need to turn off the power, just open the lid, similar to watering flowers. Plus, you can directly fill it with tap water.

However, please note that water should not be added to the mist outlet of the humidifier.

Intelligent Constant Humidity
The smart humidifier features Intelligent Constant Humidity technology, which includes a built-in humidistat that accurately detects the humidity level in your room. It automatically adjusts itself to your pre-set humidity level anywhere between 40% and 90%.

Tips: 40-60% humidity is recommended for humans, 55-70% for plants, and 40-50% for pets.

Adjustable Tube Design
360° Mist Nozzle Design ensure that the mist is evenly distributed throughout the room. And equipped with a extended tube to help output the mist from high, avoiding wet the floor.
Quick Control
Our humidifier features a sensitive touch control panel that is easy to operate, and it comes with a handy remote control that allows you to adjust settings from a distance.
More Than A Humidifier
With an essential oil tray at the back, you can drop 2-3 drops of essential oil to help release and have a break.

Note: BEFORE USE, Please put one TISSUE PAPER into it for a long machine lifetime.
Carrying Handle
Easy to carry and hold.
Easy to Clean
Wide opening gives you easy access to clean thoroughly, making the maintenance an easy job!
AILINKE Whole-house & Commercial Grade Humidifier

Proper indoor air quality is crucial for maintaining a healthy and comfortable living or work environment. It can help individuals breathe more easily, soothe dry skin and nasal passages, and reduce dust and static electricity. For growers, it is important to maintain different levels of relative humidity (RH) throughout the various growth stages of their plants. Musical instruments such as guitars, pianos, and violins require specific humidity levels to stay in tune and prevent damage. Wooden furniture and floors must be protected from moisture loss to avoid deformation, cracking, and other types of damage.